(there is a monster under your bed) Jeff Ladouceur, Julia Feyrer, Sam Mcmillian & Francis Freno, 2003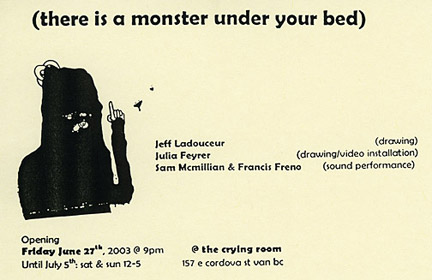 (there is a monster under your bed)
Julia Feyrer (drawing)
Jeff Ladouceur (drawing)
Sam McMillian (drawing & sound)
Francis Freno (sound)
@ The Crying Room
Curated by Colleen Heslin
Opening June 27, 2003
until July 5th (sat & sun 12-5)
The Crying Room is pleased to present (there is a monster under your bed), a drawing based exhibition of recent work by four emerging artists, Julia Feyrer, Jeff Ladouceur, Sam McMillian and Francis Freno. (there is a monster under your bed) is a dark exhibition with interjections of black humor that explores fear and doom, externalized and internalized. The work and title of this exhibition references the myths, fascination, and imagination derived from human fear from a young age, into adulthood and old age.
The myth of the monster or black cloud is a common method of externalizing fear in order to understand evil as external, leaving good to our internal selves. This dichotomy of good or innocent verses evil in (there is a monster under your bed) generates a distance between these forces, and references conflicting relationships within ourselves. Within this exhibition death, fear and ultimate doom overpower the "innocent". In these Prozac times dark concepts often take form as external entertainment, creating an escape from the monsters within ourselves.

Julia Feyrer is a Vancouver based emerging artist currently attending Emily Carr Institute of Art & Design, and is also a founding co-editor of ECIAD's Woo magazine. Jeff Ladouceur is an emerging artist living and working between Vancouver and Montreal, who is widely published including two books (Ebola, 2001 and upcoming Untitled, 2003, both books are published by L'Oie de Craven, Montreal) and several magazine publications. Sam McMillian is a Vancouver based emerging artist who graduated from the Capilano arts program in 1997. Francis Freno has recently returned to Vancouver and is working on sound collaborations with McMillian.
Colleen Heslin 2003